Electric strikes
Security door controls
Electric Strike Installation in Manhattan
Your business isn't fully protected unless you secure it with the latest technology in electric strikes, and there is no better company to handle it for you, then Village Lock & key in Manhattan, New York.
Give us a call and inquire about our wide array of services to protect your business using electric strikes. As a business owner, whether it is big or small, keeping it secure should be your number one priority, after all, you need to make sure your investment is safe from the most unlikely of events, with the help of electric strikes.
This is how Village Lock & key in Manhattan, NYC can help you. As a top-notch commercial locksmith service provider, our technicians work tirelessly to render the highest quality, quickest, and most reliable installation and repair services on the island of Manhattan. We'll make sure to fulfill all your security-related needs, while also ensuring that the facility is safe from potential break-ins, and other threats. If you are looking for that much-needed peace of mind that your store will be protected after your close for the day, then you need one of our state-of-the-art commercial security systems to protect you using an electric strike. Hire Village Lock & key, and you can enjoy a good night sleep knowing your property is as safe as it will be.
Additionally, we also offer 24/7 emergency locksmith services all year round. Our technicians are ready to be dispatch to your location at a moment's notice and assist you with your lock-related problems.
If you are still wondering what an electric strike is, and how is it going to keep your business secure, keep on reading, at Village Lock & key we strongly believe there is nothing better than a well-informed customer.
Choosing the right company to install Electric Stikes
Why use a professional company like Village Lock & key to install an electric strike?
An electric strike is a sensitive mechanism representing your first and last line of defense against undesired threats from entering your place of business. Which is why you have to be sure that the device is properly installed by a professional and experienced locksmith using the right set of tools, so when you go to sleep at night, you do so knowing full well your business will be safe.
Furthermore, if the device isn't properly installed, it will start malfunctioning, completely disrupting your business activity, the door could lock and unlock randomly, causing your clients to distrust your store's security. If you are having problems with your electric strike, no matter what time of day it is, our 24/7 emergency locksmith service is available to you. We'll dispatch our technician, arriving in 30 minutes or less, and fix whatever problem you are experiencing with the device.
What is an electric strike?
An electric strike is an angled surface that allows a lock to latch and secure the door, and by the push of a button, you can either open or closed the door. In today's World, this is a must-have feature for your business for multiple reasons, but the most important one is security. Call us at Village Lock & key in Manhattan, NYC, and we'll dispatch our commercial mobile locksmith to install this amazing feature on your front, back, and any other door you request.
Another desirable advantage of installing an electric strike is the buzzer sound it makes whenever the door opens. This will alert you, and your employees that someone has just walked into the store, and awaits to be attended.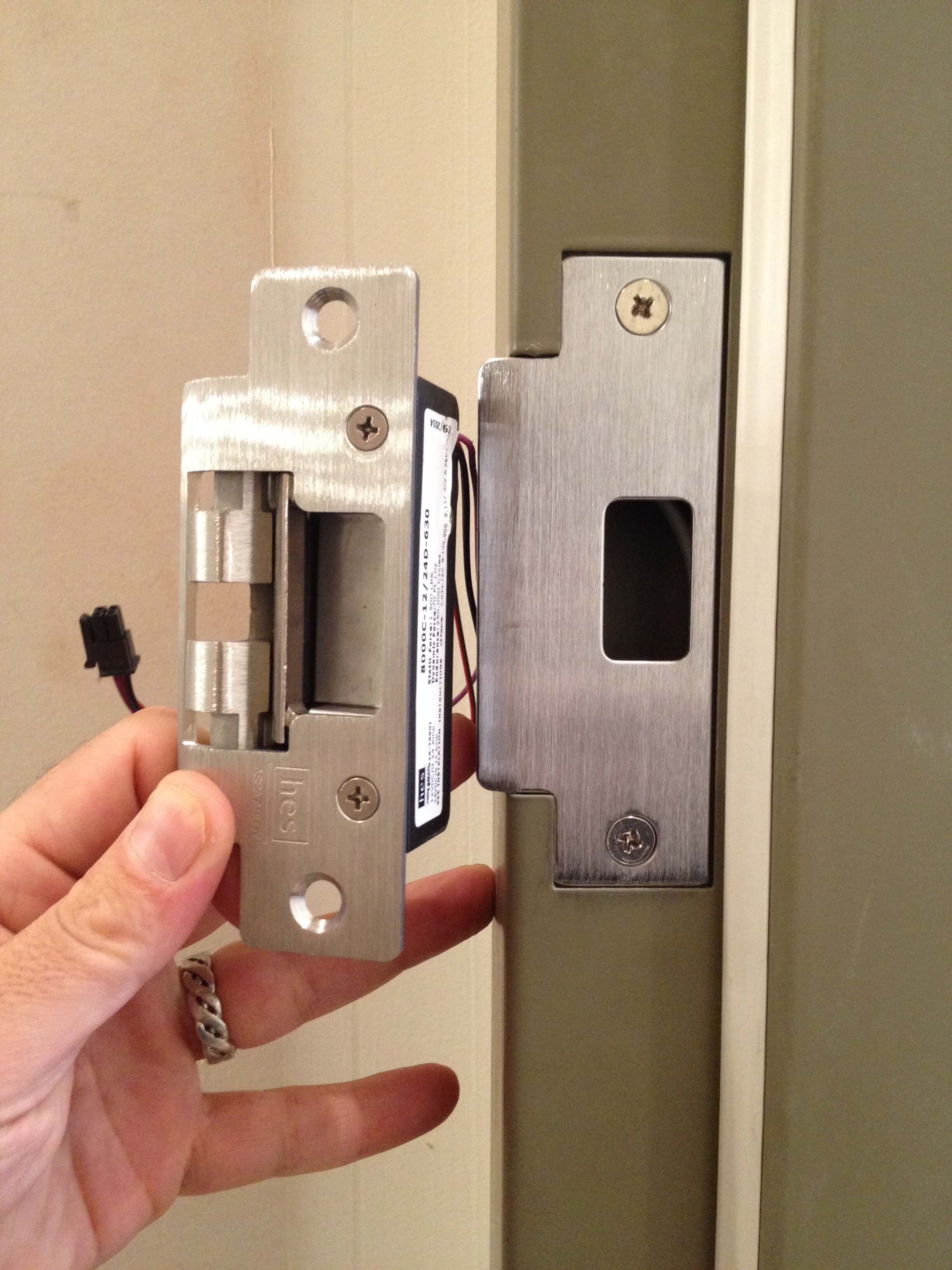 3 Types of Electric Strikes
Fail Secure Configuration: An electric strike requires power to function. When the power is out, the door will remain locked, preventing your customers and your staff from leaving the premises. This could be considered a safety hazard. Our technicians will make sure your electric strike has a proper fail secure setting in the event of a power loss.
Fail Safe Setting: This is the exact opposite of the previous one. When there is a power outage the doors will get automatically unlocked, and while this gives the people the possibility to exit your store safely, it also leaves the proverbial (and literal) door open for threats to walk in.
Reversible Strikes: This is the most popular of all-electric strikes, as it grants you the power to switch between the Fail Secure and the Fail Safe settings quicker and more effectively.
No matter what type you choose to work with, you can rest assured our qualified team of technicians will deliver a top-notch result for your satisfaction.
Why work with Village Lock & key when there are other options available? The answer is simple, there are no companies like Village Lock & key in Manhattan. We take enormous pride in what we do, and we are known experts at installing and repairing electric strikes.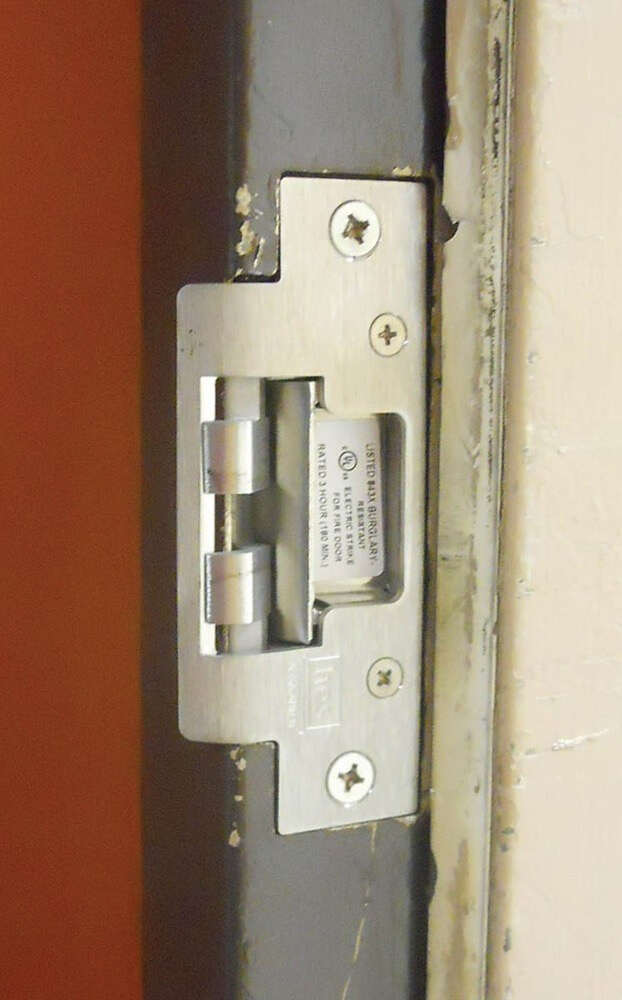 Village Lock & Key
453A 6th Ave, New York, NY 10011
(646) 846 – 8386
(212) 488 – 4888
Operating Hours:
Emergency Service: 24/7 
Store Hours: 
Mon- Thurs: 9:00am – 6:30pm
Friday: 09:00am – 04:00pm
Sunday: 12:00am – 05:00pm